ABOUT US
Meet the experts
By utilizing the latest technology, thorough assessment skills, and old fashioned hand's on workmanship, our clinical mission is to enhance your quality of life by not only decreasing your pain but also improving your ability to participate in activities you enjoy.
Protherapy Orthotics is a local business founded in 2011 by husband and wife team Stéphanie Handel (Certified Athletic Therapist) and Stephen Handel (Canadian Certified Pedorthist and Athletic Therapist).  Stephen and Stephanie met in Toronto while studying Athletic Therapy.  Both have a passion to sharing their skills with others in order to enhance quality of life.  After completing studies in Victoria, Moncton, and Toronto, they moved to Ottawa, ON where in 2006 they launched their first clinic.  It was a strong desire to raise children close to at least half of their extended family that initiated the move to Dieppe in 2011.  Even though Stephen's family remains on Vancouver Island in Beautiful British Columbia, Stephen is happy to have moved to a welcoming community and is working hard to learn to speak French.
We guarantee that all patients will be assess by a Canadian Certified Pedorthist.
We perform a thorough evaluation including video gait assessment and lower extremity biomechanical examination on every patient.
We are frequently recommended and trusted by numerous physicians and other health care professionals.
We manufacture our orthotics from raw materials at our onsite lab.
We have an efficient turn around time.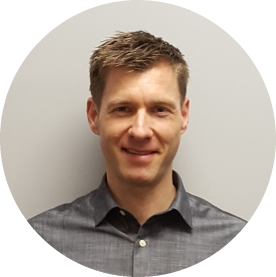 Stephen Handel
B.Sc., Dip.SIM, CAT(C), C.Ped(C)
Canadian Certified Pedorthist
Athletic Therapist
Active Release Techniques® Provider
Clinic Owner
Stephen became a member of both the College of Pedorthics Canada and the Canadian Athletic Therapists Association after graduating with a Bachelor of Science Degree from the University of Victoria in 1999, and a Diploma in Sports Injury Management (Athletic Therapy) from Sheridan College (Sheridan Scholar) in 2003.  While at  Sheridan, Stephen was awarded an internship with the Toronto Blue Jays, the Dunbar Medical Award, and the Evert Van Beek Academic Award.  Clinic owner of the Algonquin Sports Therapy Clinic in Ottawa ON, Stephen was head therapist for Algonquin College for 8 years.  Stephen served on the Board of Directors for the CATA representing Atlantic Canada as the Atlantic Director.
As a Canadian Certified Pedorthist – C.Ped(C), Stephen is a board certified orthotic and orthopaedic footwear expert. Stephen has extensive training in the lower limb anatomy, muscle and joint function, foot orthotics, advanced gait analysis, and footwear.  Canadian Certified Pedorthists help to alleviate pain as well as abnormalities and debilitating conditions of the lower limbs and feet.
In his spare time, Stephen is a competitive triathlete.  Two World Duathlon Age Group Championship events and multiple Canadian National Duathlon medals are among his accolades.  Stephen is the resident expert when it comes to analyzing and correcting improper cycling and running mechanics through lightweight, state of the art custom foot orthotics.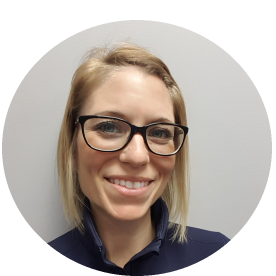 Stephanie Handel
B.Sc., Dip.SIM, CAT(C)
Certified Athletic Therapist
Certified Compression Stockings Fitter
Clinic Owner
Stéphanie graduated from the Université de Moncton with a Bachelor's Degree in Kinesiology in 2000.  She accumulated countless hours providing valuable medical coverage for varsity sports teams. She then continued her studies at Sheridan College where she completed her post-graduate diploma in Sports Injury Management to become a Certified Athletic Therapist in 2003.
Born and raised in Grande-Digue, NB, Stéphanie is happy to be back home among her family. She has over 15 years of experience treating recreational and sports related injuries.  The theoretical and practical nature of her background has culminated in a unique and outstanding individual that will inject a new perspective on removing barriers and returning individuals safely to work or play based on his or her functional abilities.
She is experienced at various regional and national sporting events including the Canada Summer Games, World League Men's Beach Volleyball, CCAA Badminton Nationals, World Junior Baseball tournament, and more. Following over 3000 hours of field and clinic experience, Stéphanie opened the Algonquin Sports Therapy Clinic in Ottawa in 2005 with Stephen.
With a great deal of project planning experience, Stephanie will be coordinating various new and exciting programs at Protherapy.  One such program is the Diabetes Awareness and Prevention program; a not for profit service bringing Professional services to those at risk.
105 Englehart Street
Suite 600
Dieppe, NB
E1A 8K2